Alright, this is going to be an info filled post. First-no baby. He's stubborn and we'll probably need help to convince him to join the outside world. So hopefully things will go well this weekend.
Two-There are so many incredible book giveaways going on right now that I just have to share. (You'll probably hear more about them as time goes on too!) The first one is Tristi Pinkston's
Merry Month of Miracles
. It's in celebration of her upcoming release of
Dearly Departed
in January. There's a new giveaway each day. Pretty exciting. Hop on over and take a look.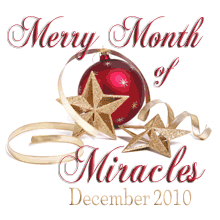 Another contest that will start (or kind of has started) on Dec 6th is the
Best I've Read
2010. There have been a few teaser giveaways already. Take a look there too.
Three-Here's a fabulous book I've heard about that would be a great Christmas gift,
The Star Prophecy
by
Joan Sowards
. This is the back cover blurb along with some reviews.
"You are crazy. No Nephite has ever returned."   
Most people laugh when they hear of Enoch's dream of returning to Jerusalem to find the
infant Messiah. Even Enoch's future father-in-law mocks him when he asks for a postponement of the long-awaited wedding to his beloved Rebekah.  A few take Enoch seriously—the shipbuilder Omnihah, Enoch's teacher David, and Nephi the prophet.    
Five years previously, a Lamanite named Samuel had stood on the wall of Zarahemla and prophesied that "five years more cometh" and the Christ would be born in Jerusalem. Time is running out! Enoch knows he must set sail across the great waters in search of his dream—to see the face of the Messiah.  The Star Prophecy is a surprising story of courage and love, faith and fortitude. Sail with Enoch and friends across the sea through hardship and adventure in search of the Christ Child.  
"I love Joan Sowards' inventive mind. She begins this adventurous tale with 'what if?' and tells it so well that the reader closes the book thinking 'why not?' The Star Prophecy adds a surprising new dimension to the Christmas story." --Liz Adair, author of Counting the Cost  
"Action-adventure, romance, inspirational, and historical fiction all rolled into o

ne make the Star Prophecy and exciting page turner." --Margaret L. Turley, author of Save the Child


Fourth-I just finished reading Rick Riordan's The Lost Hero. (Here's Riordan's blog if you'd like it.) 

Fabulous book. I loved it and can't wait for the next installment. I thought I would 

be disappointed without having Percy Jackson and Annabeth as the main characters, but I loved Piper, Jason and Leo. They make a great trio. It's full of action and adventure and I'm learning more about Greek mythology than I thought possible. I highly recommend it for anyone.


Fifth- I know I need to get on it and do some more reviews of the books I've finished lately but . . . I don't know if that will happen. I have them all listed on My Pages and can't think of one I wouldn't recommend. If you'd like more details on a particular one, let me know and I'll for sure get a review posted.